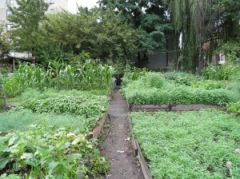 Grow-local website http://www.grow-local.com.au/  is hosted by Queensland Conservation Council to promote and encourage local food growing, buying locally grown food and sharing a calendar of events with everything from foodie events to sustainability workshops and community exhibitions. To make sure you don't miss opportunities you can subscribe to the Grow-local monthly newsletter to receive updates.
From this site there are several directories to help you locate community gardens, organizations interested in food security, suppliers. Depending on your level of interest there will be something there to explore further.
The information about community gardens in Logan is not up-to-date as only Griffith University-Logan Campus – Community Garden and Loganlea Community Centre - Community Gardens are listed as Community gardens in Logan.
Two not yet listed on the Grow-local website are both very successful gardens. They are the Whiteman Street Community Garden, Crestmead on private land started by local resident Warren Goodlet and the combined school-community gardens at St Paul's Catholic School Woodridge where local migrant family gropus have been allocated their own plots. There may be more  school, community gardens, and  school-community gardens in Logan. Mable Park State High School has a multicultural garden featuring many traditional food plants  of Pacific Islands. The Griffith Garden Space has many traditional African food plants as many of its gardeners are African migrants.
One of the many benefits of our multicultural community is learning about different foods and sharing wonderful taste sensations. After the growing comes harvesting cooking and  sharing.
Another benefit of food and community gardens is creating productive gardens where once land was unused weedy and neglected. Such places can be cultivated with care and provide food for local residents.
If you are interested let your local Logan politican and contact our group Logan_CAN if you like assistance. We are passionate volunteers who care about our and your opportunities to grow food on council land. The image above shows a garden created by young people in another place. Our young people can do that also if given opportunity and assistance.
Farmers' markets are a great place to buy locally produced food. Logan has 5 such markets. Locations and times are listed here.